An Indo-European population ravaged through the Pontic steppe in the 7th century BC and beyond. In their early period of expansion, as they established the first nomadic empire of Asia by invading neighboring territories and absorbing their cultures in the process, up to the point of defeating Darius's most powerful Persian army, they led a lifestyle of extreme economy of means.
Their aesthetic language dictated by the constraints of a life on the move, Scythian people expressed their creativity in portable, practical objects of everyday life, most of which revolved around horses. Quite symbolically, their only architecture and stone sculpture manufacturing was reserved for burial sites.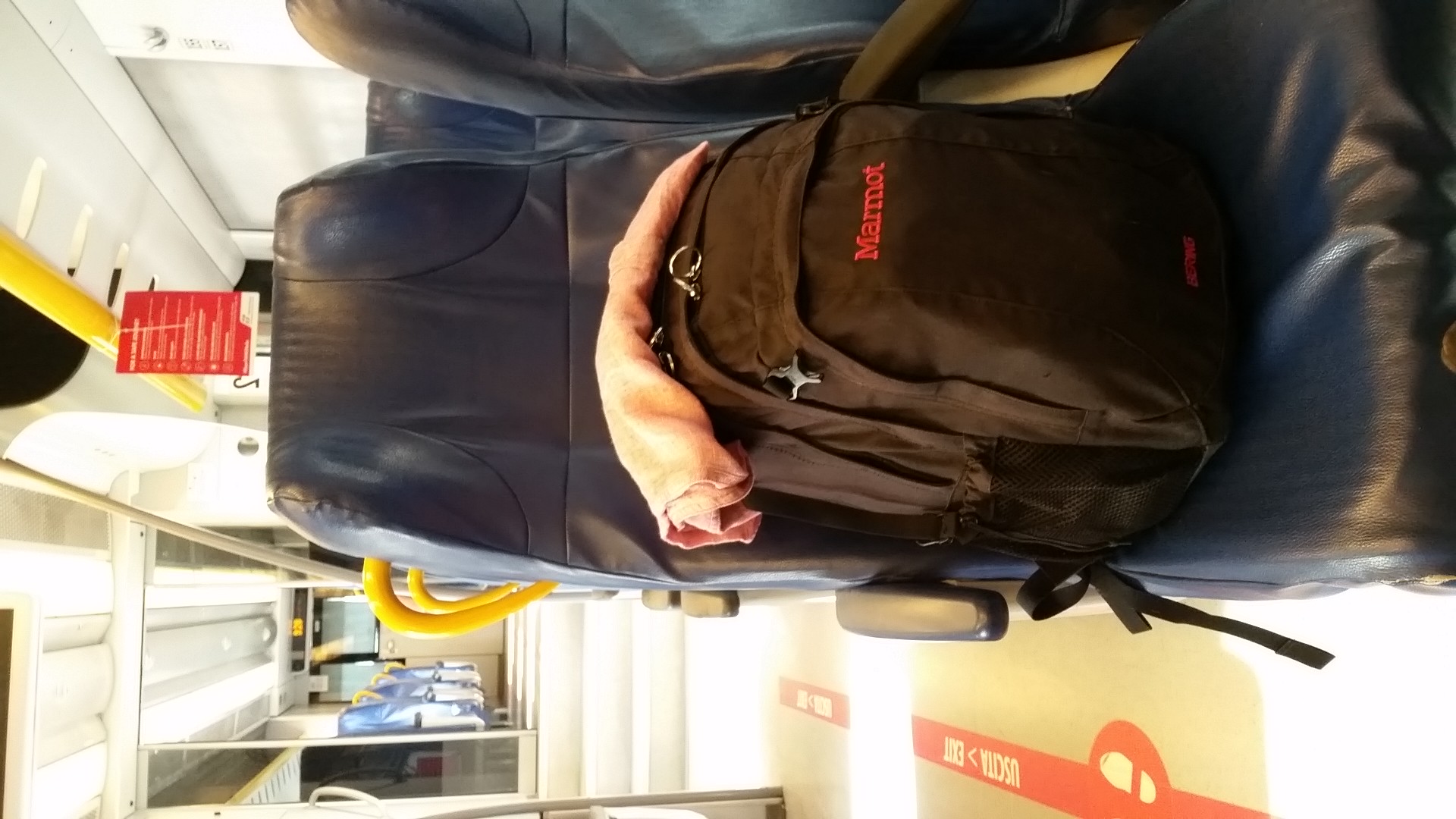 Stefano brought a home made boom box, a home made disco light, some reflective ribbon, and three days' change of clothes, carefully pressed into a backpack that fit within the "personal item" size (Ryanair is notoriously picky with size restrictions). Underwear and swimsuit were tucked inside the boom box, which needed a screwdriver to open, which could not go on the plane. Unlike the Scythians, we do not own some of our means of transportation and have to get extra creative with luggage design.
As we (Arron, Elia and Stefano) strolled around Valencia looking for a location, we ran into three young dancers in the City Hall square. The pavement was smooth marble. The boys were playing some electronic dance music and improvising duets, playing a sort of paper, rock, scissors game. After talking with them briefly, we laid our reflective ribbon around the area they were dancing in, and that magically turned it into a Pocket Disco session. That felt a lot like those '60s artists who put things on pedestals.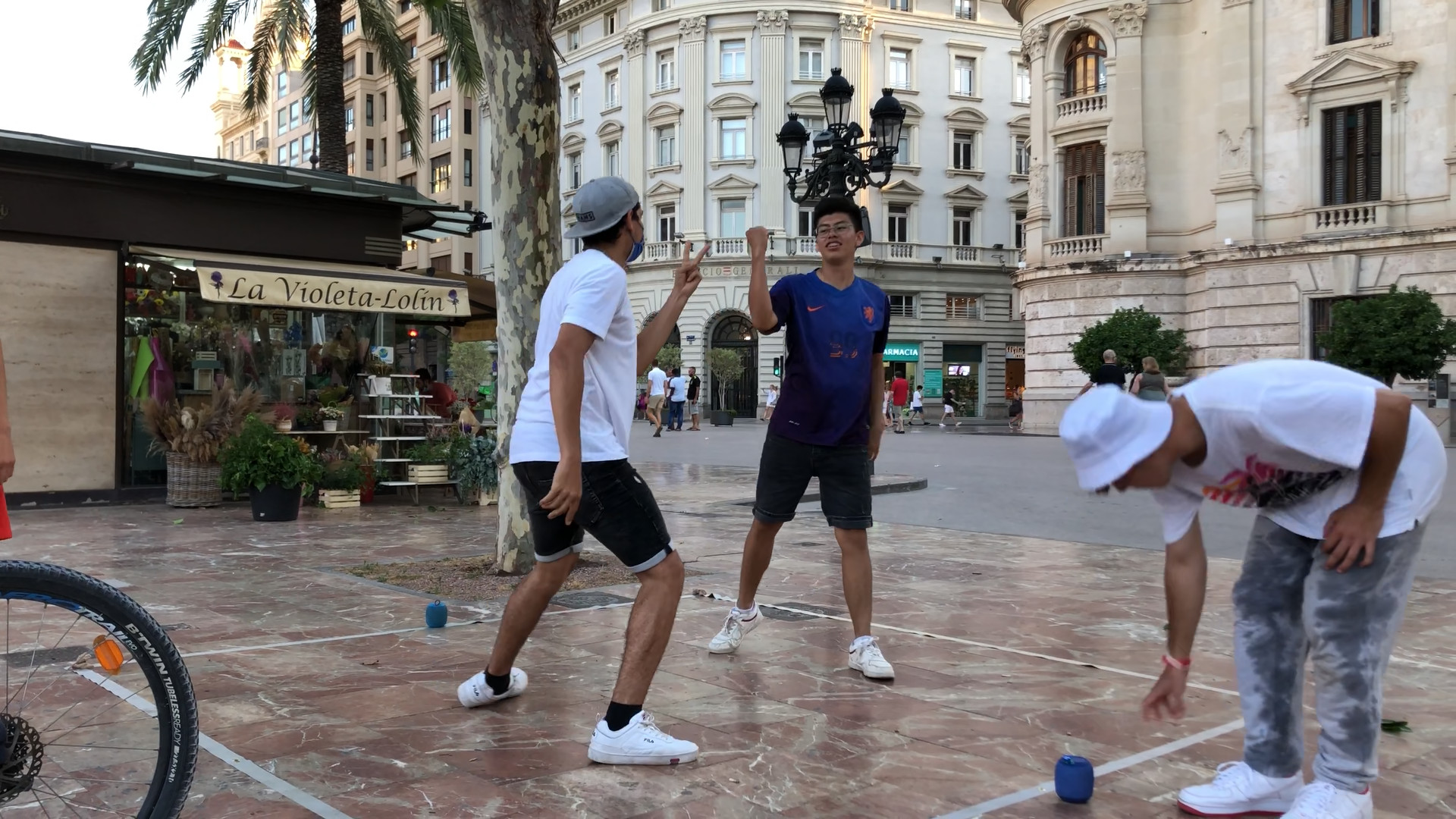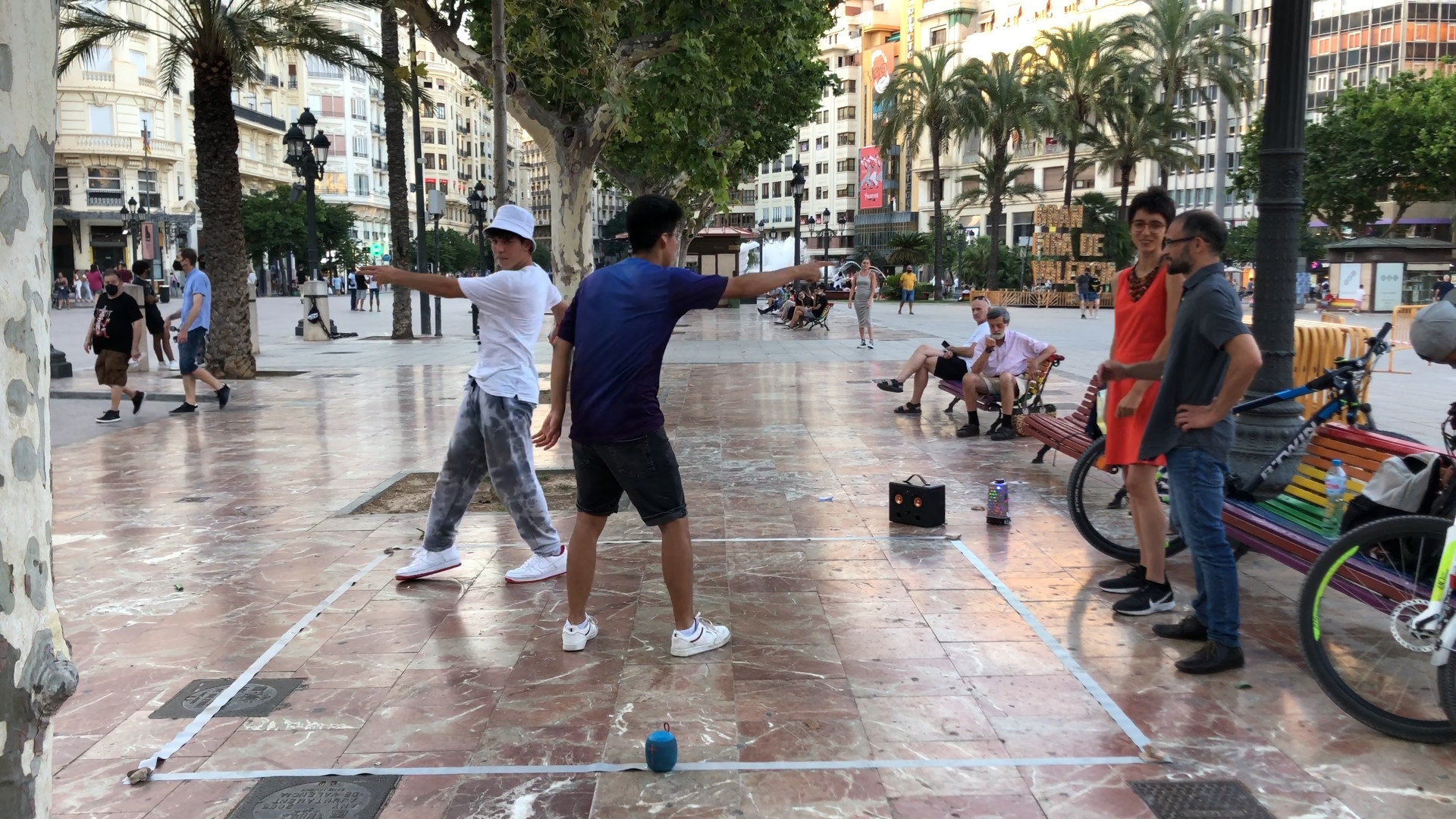 The dancers kept on with their performance and their own music, and after some time we gradually joined in and started mixing in our music and sound system. Other people, maybe weight or ten passers-by, joined randomly. So far the non-planning part had worked great.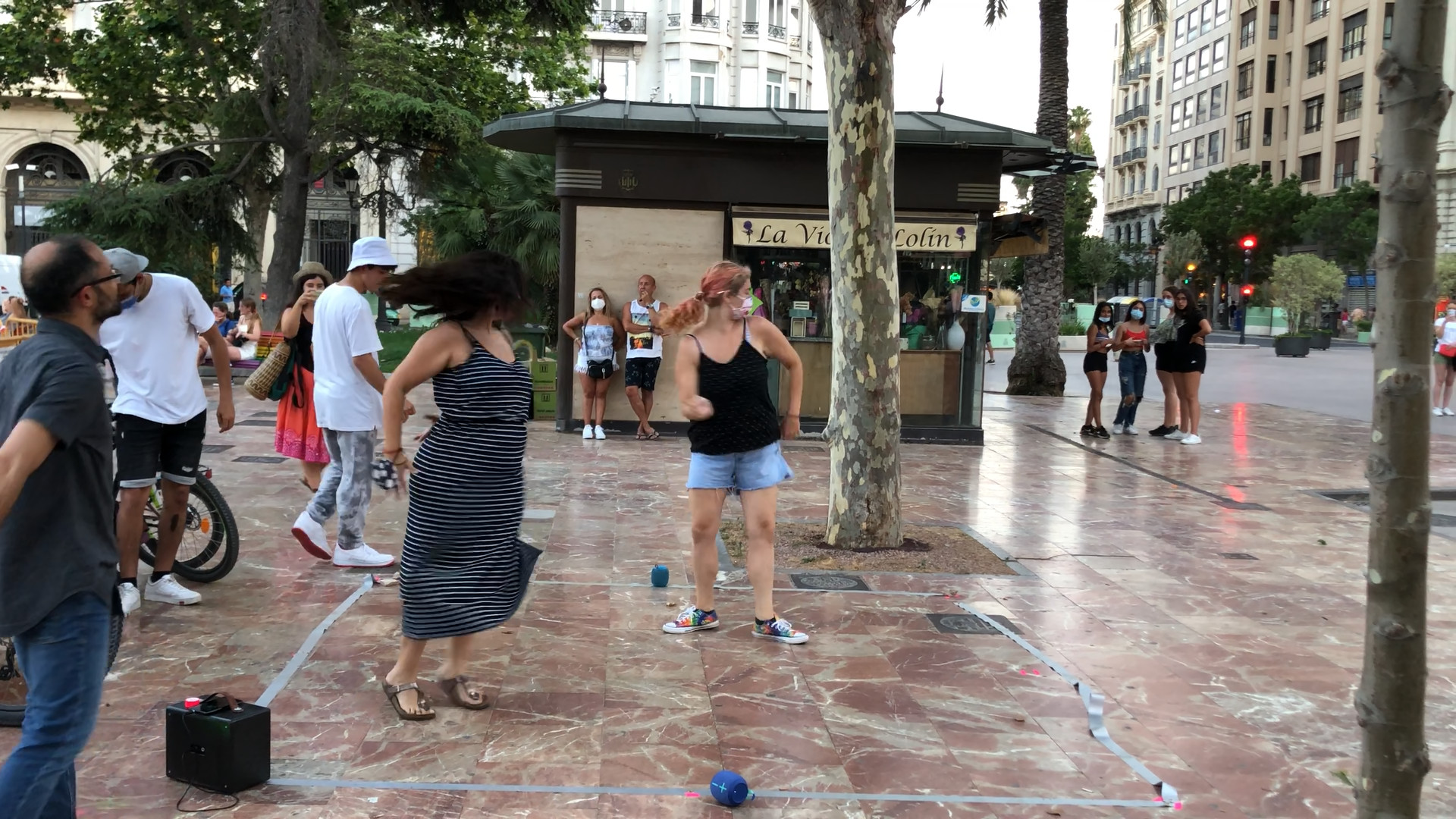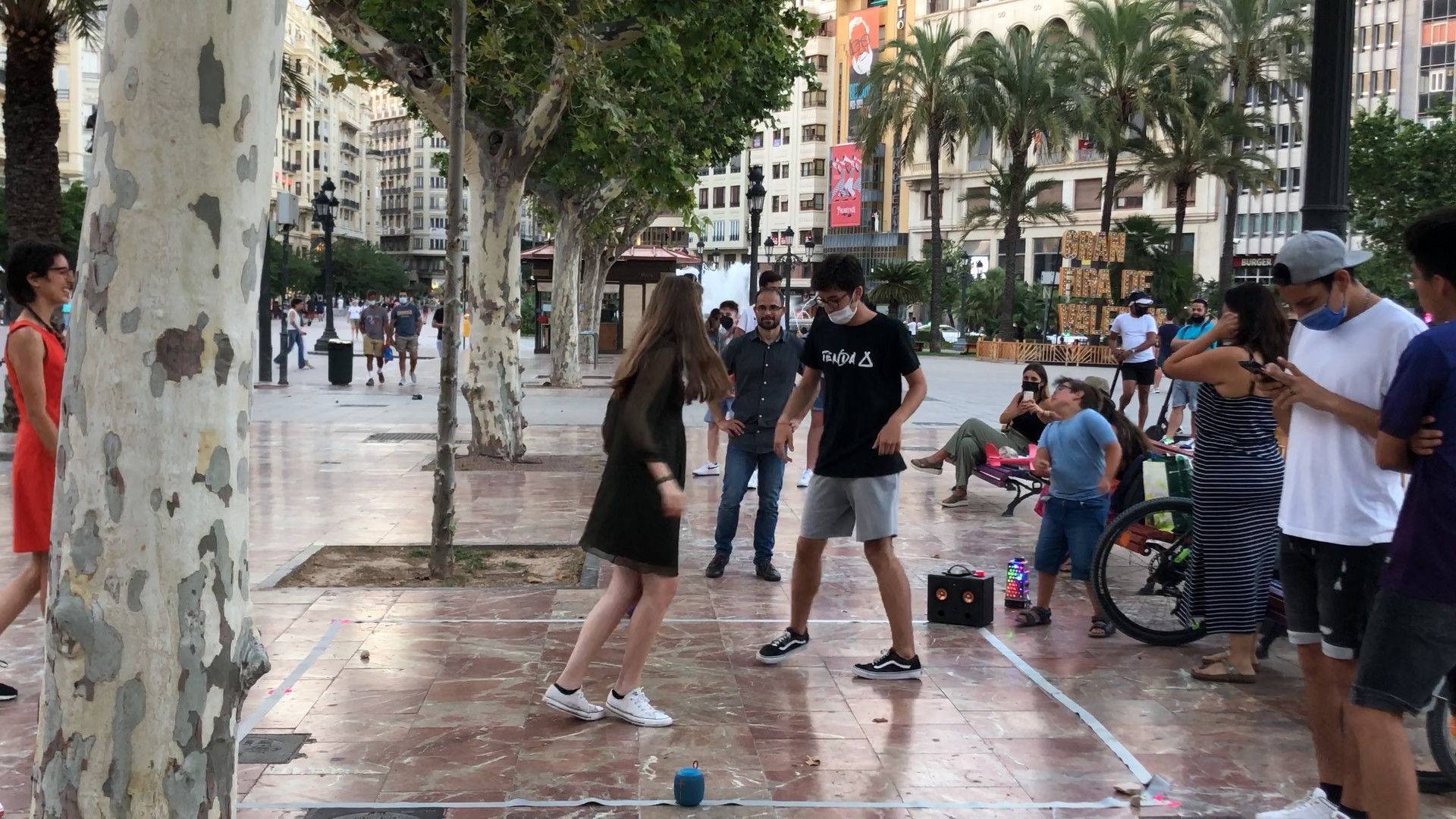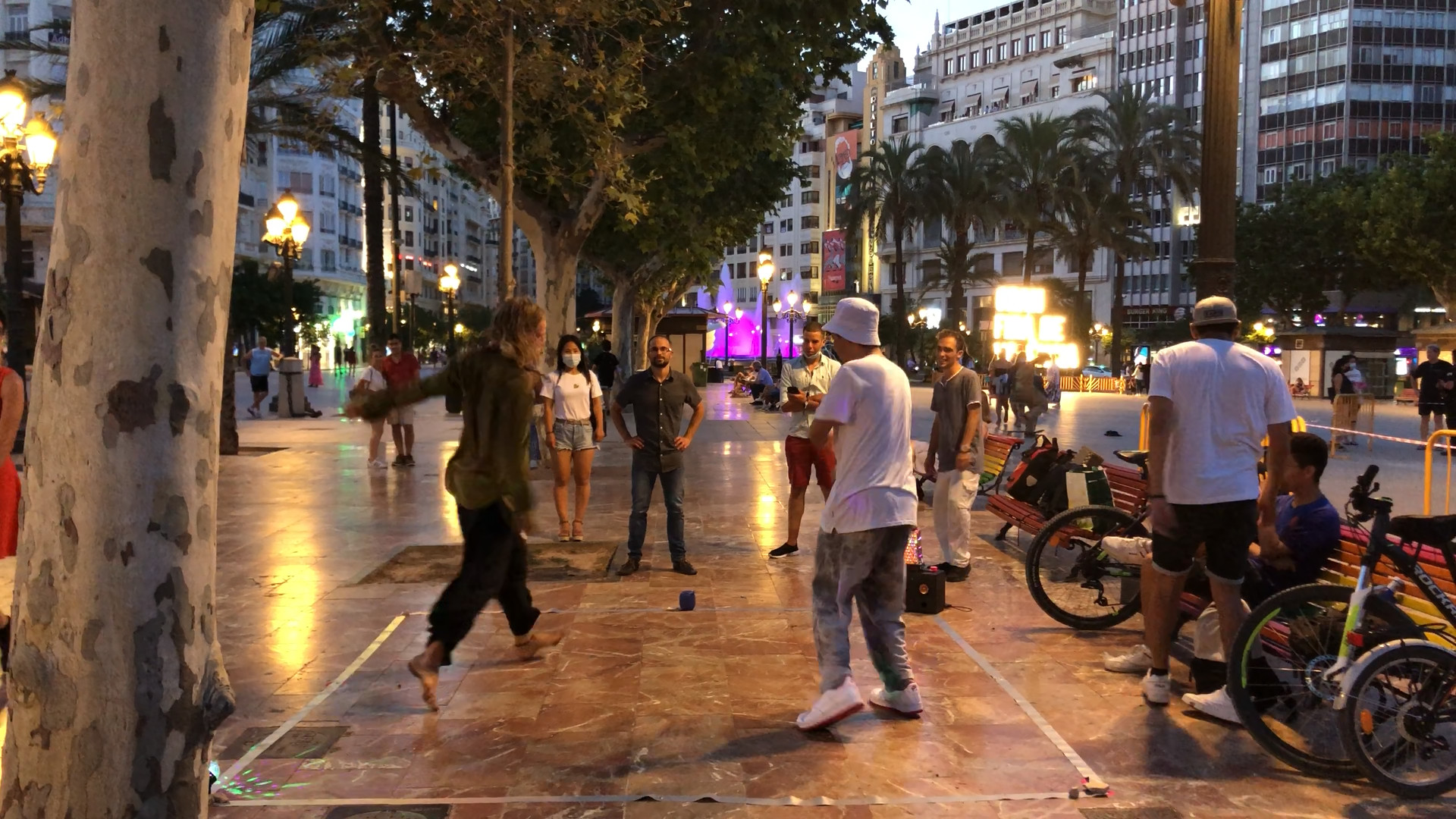 La Ruta del Bakalao
The second and third day were dedicated to La Ruta del Bakalao. This was the name of a famed string of dance clubs on the south of the city that sprouted on the wake of la Movida, the euphoric period following the death of dictator Francisco Franco. This euphoria grew so big and chaotic that people would run 72-hour rave parties on heroin and metamphetamines along La Ruta, often times eventually crashing into other cars or flying into the rice fields along the road. In the '90s, as things got completely out of control, most clubs had to shut down. Some were later repurposed into tamer version of themselves; some others stand abandoned along the route like dionysian temples in ruins: with their edgy logo and architecture still visible from the highway, or their featureless, factory-like exterior only betrayed by a strange brown color, or outright razed down so that one could just barely guess the original footprint of the building.
Initially we thought we could spend the whole three days with something in between a 72-hour bicycle pilgrimage, camping out at night, and an archaeological expedition. But work schedule and the need for extra equipment to take some video documentation (as there would not be any strangers to engage with this time) made that unfeasible. Instead we chose four of the more iconic clubs of that period, researching and envisionig the kind of music they would play (each of the clubs catered to a different type of audience), and interpreting that with a single song.
The Face
Pretty much nothing remains of The Face, one of the hotspots of La Ruta that once stood right on the beach. We had to ask perople around to point out to us where it was, and a cracked concrete pavement, now used as a parking lot, was all that was left of the building. After a true Valencian experience with a paella on the beach and a swim, we were ready for a daytime dance party.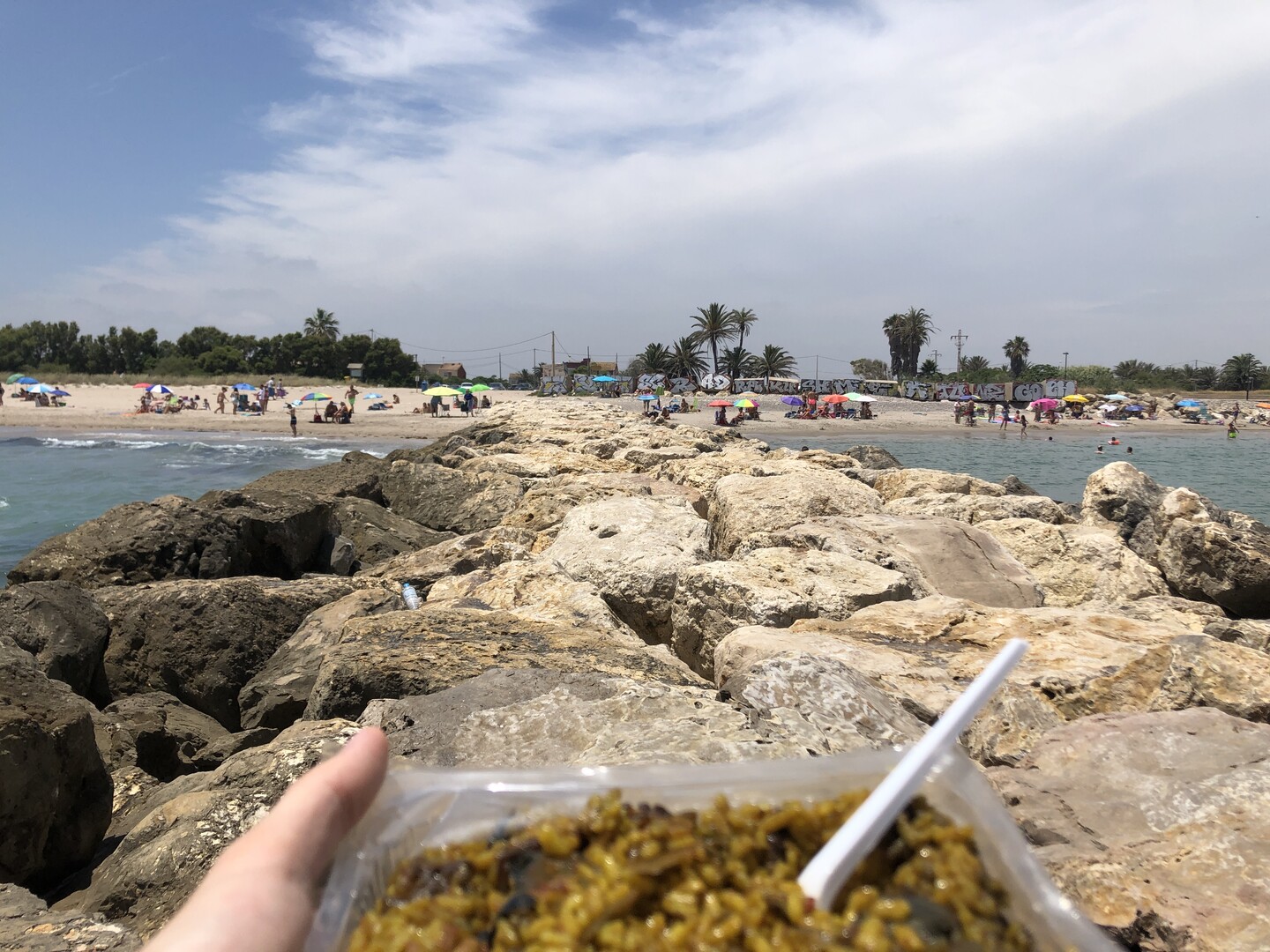 Incidentally, one thing that regularly happened on La Ruta was people turning on their car stereos and dancing in the clubs' parking lots while they were hanging around. Since The Face got bulldozed and turned into a parking lot, we could park our car and dance where the inside of the club used to be.
We danced to Fatima Yamaha's Araya covered by MEUTE.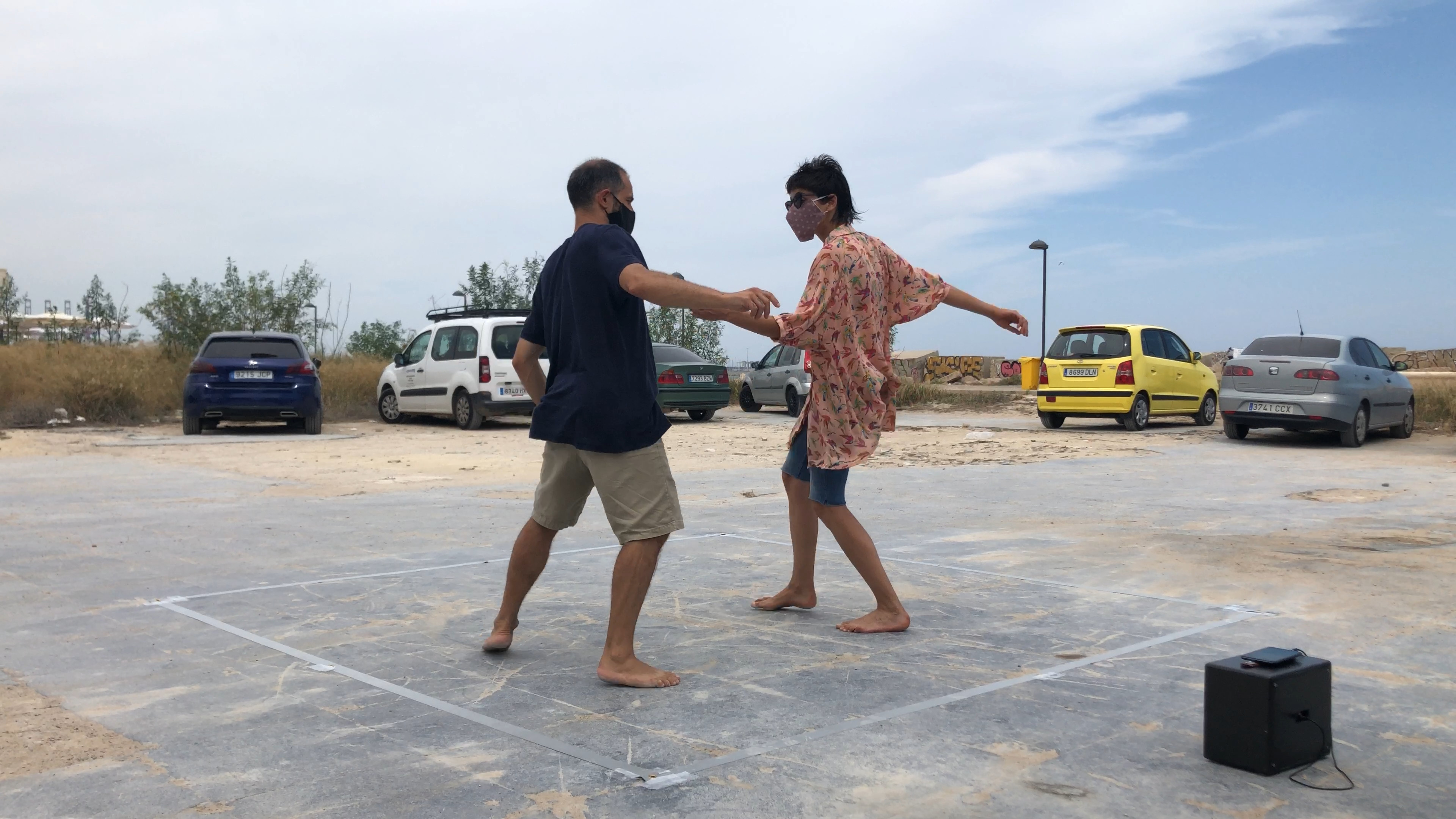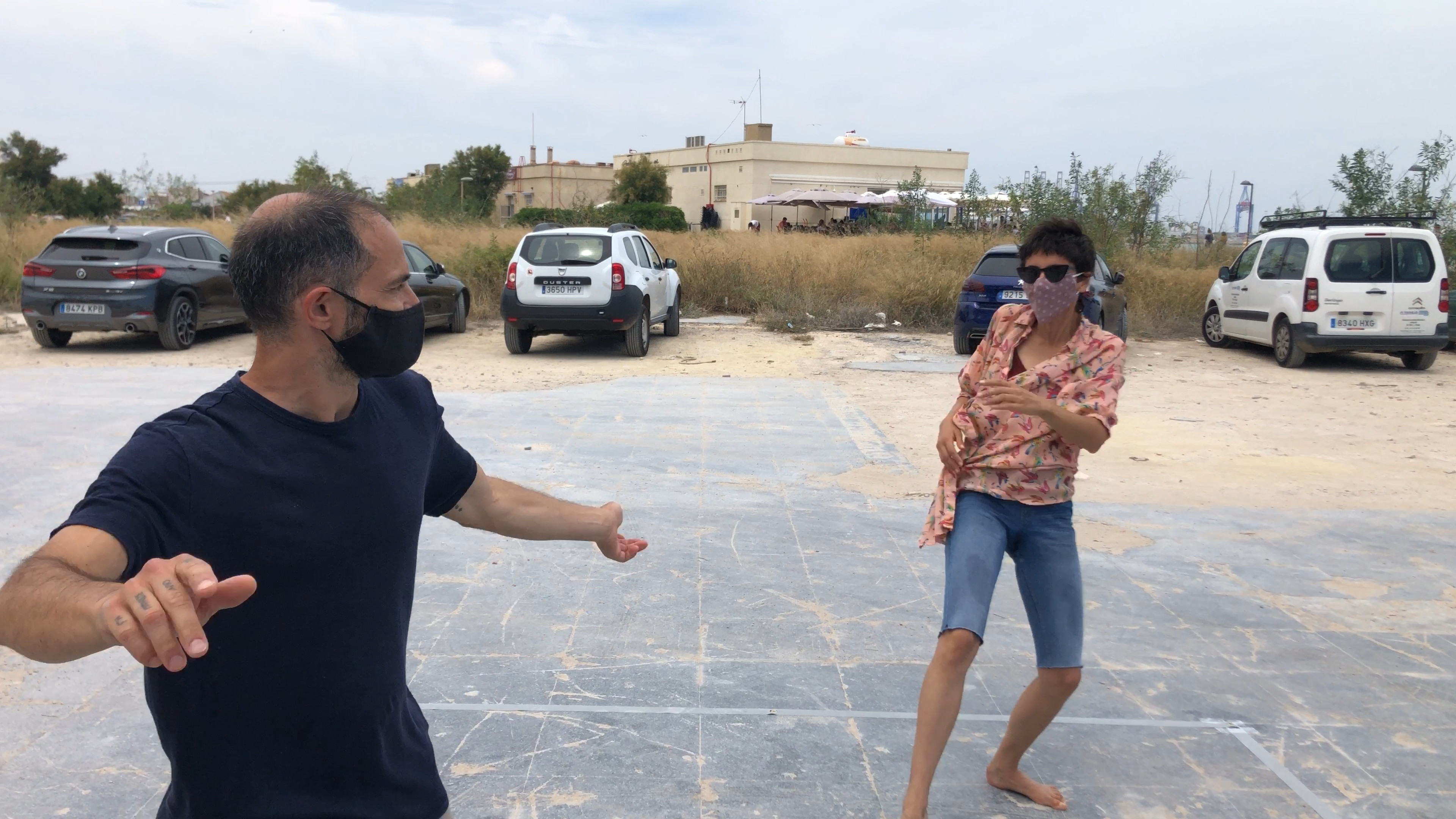 Penelope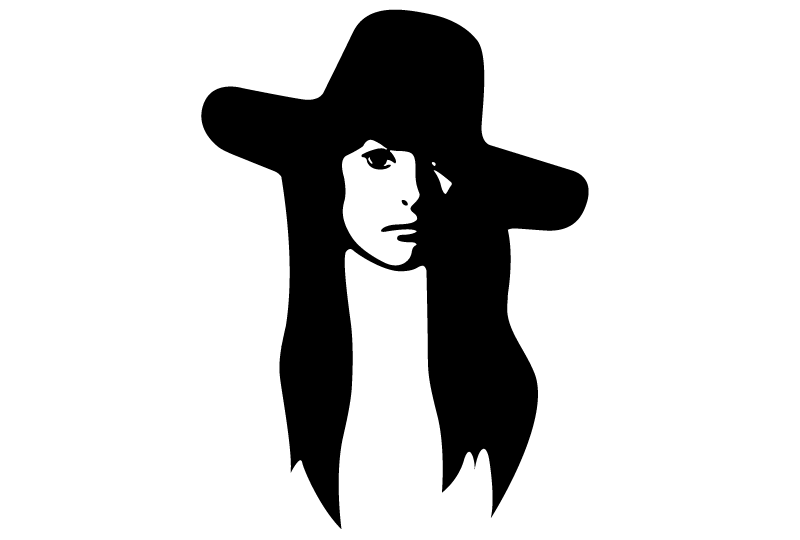 Slightly off La Ruta proper, Penelope was an iconic club in the '80s and '90s. It featured at least three bars and two dance floors, one very large with an elevated stage and a balcony with booths. Today it is completely abandoned in the middle of the countryside, surrounded by heaps of debris and trash in what used to be its vast parking lot. It is not boarded up and, surprisingly, not squatted, so entering it was extremely easy. Someone had come and taken all the stainless steel railings and other valuable materials; someone used it as a toilet and someone (else?) thought its walls were a great place to advertise their social media pages and hone their writing skills.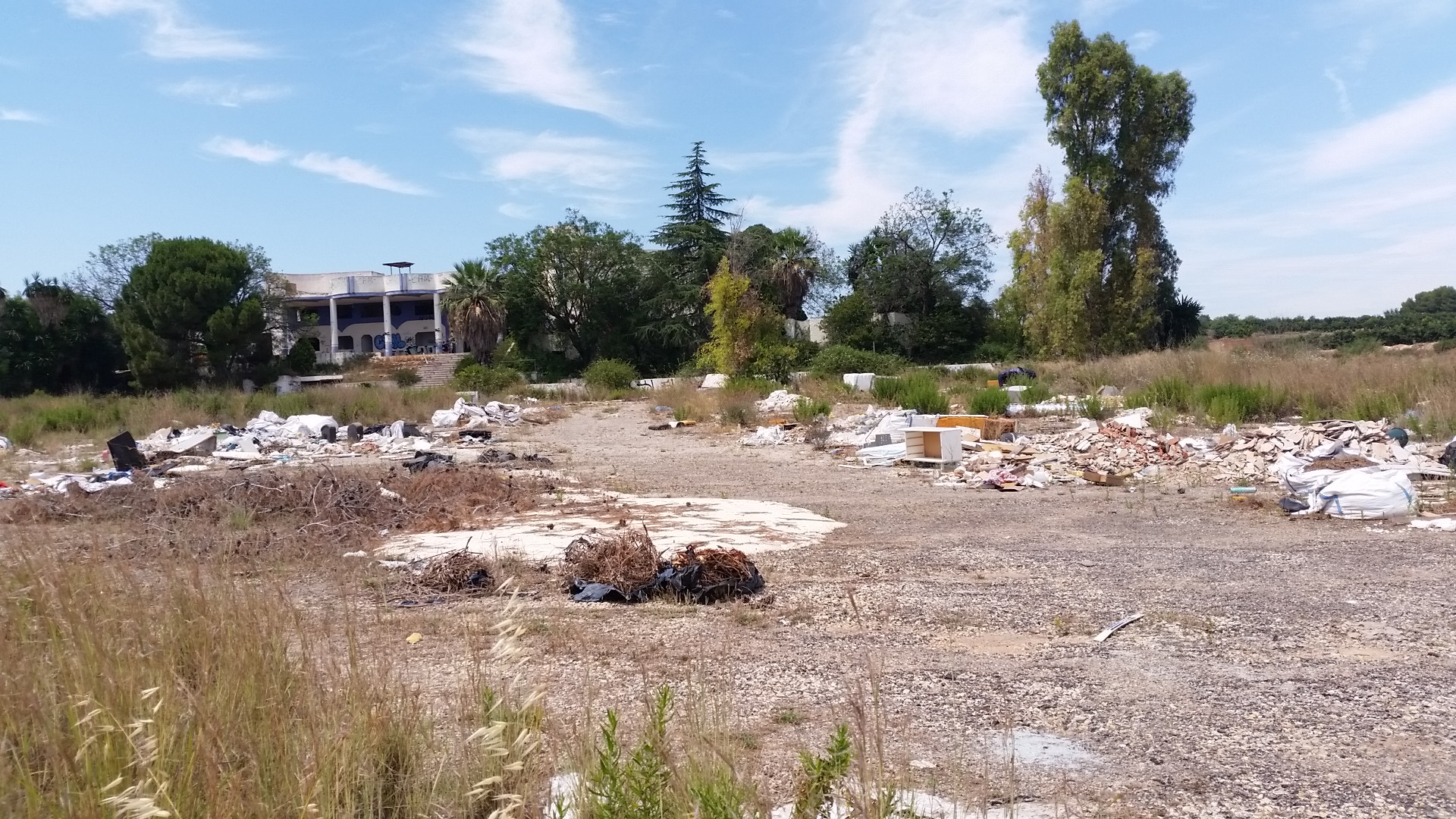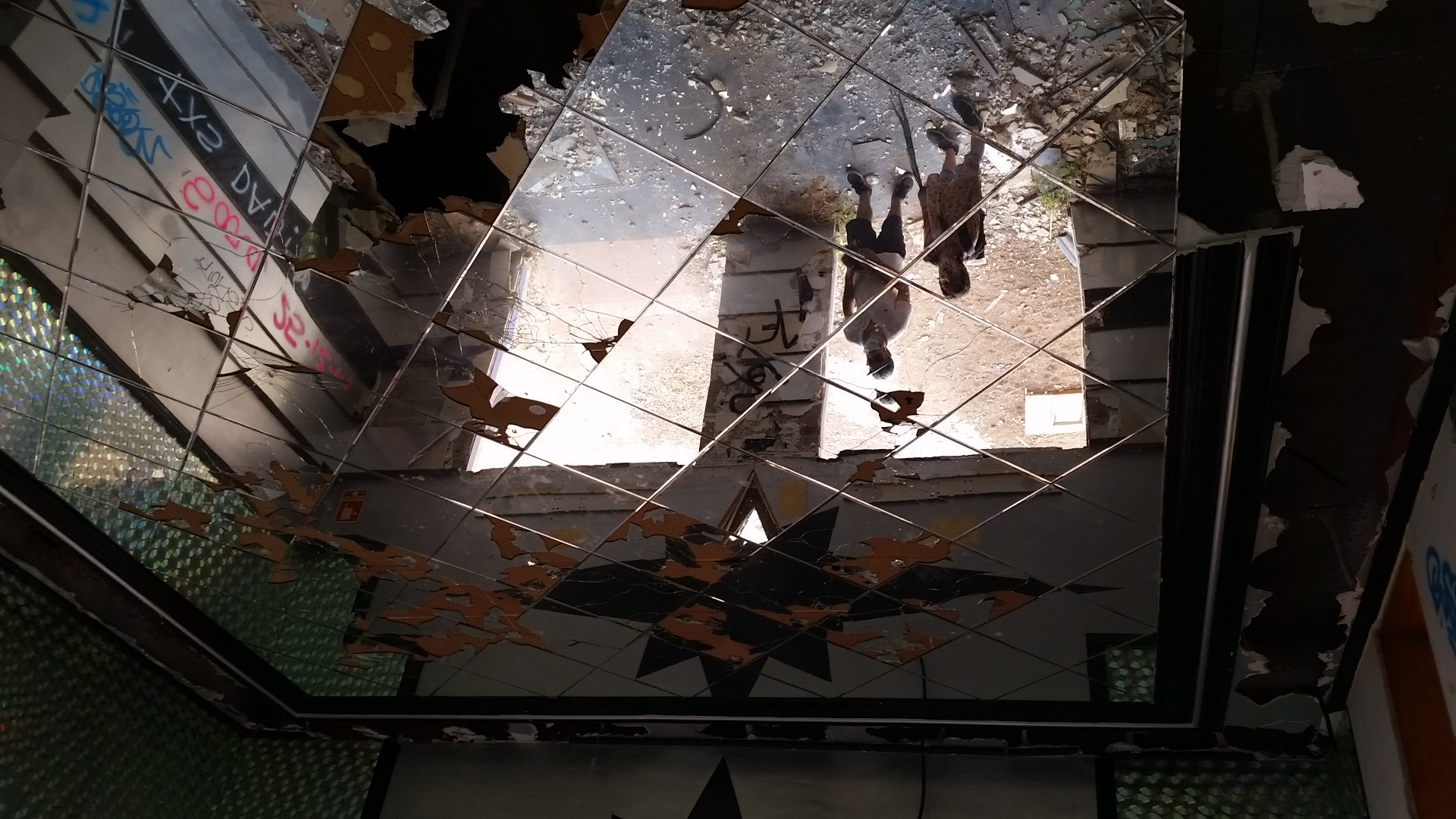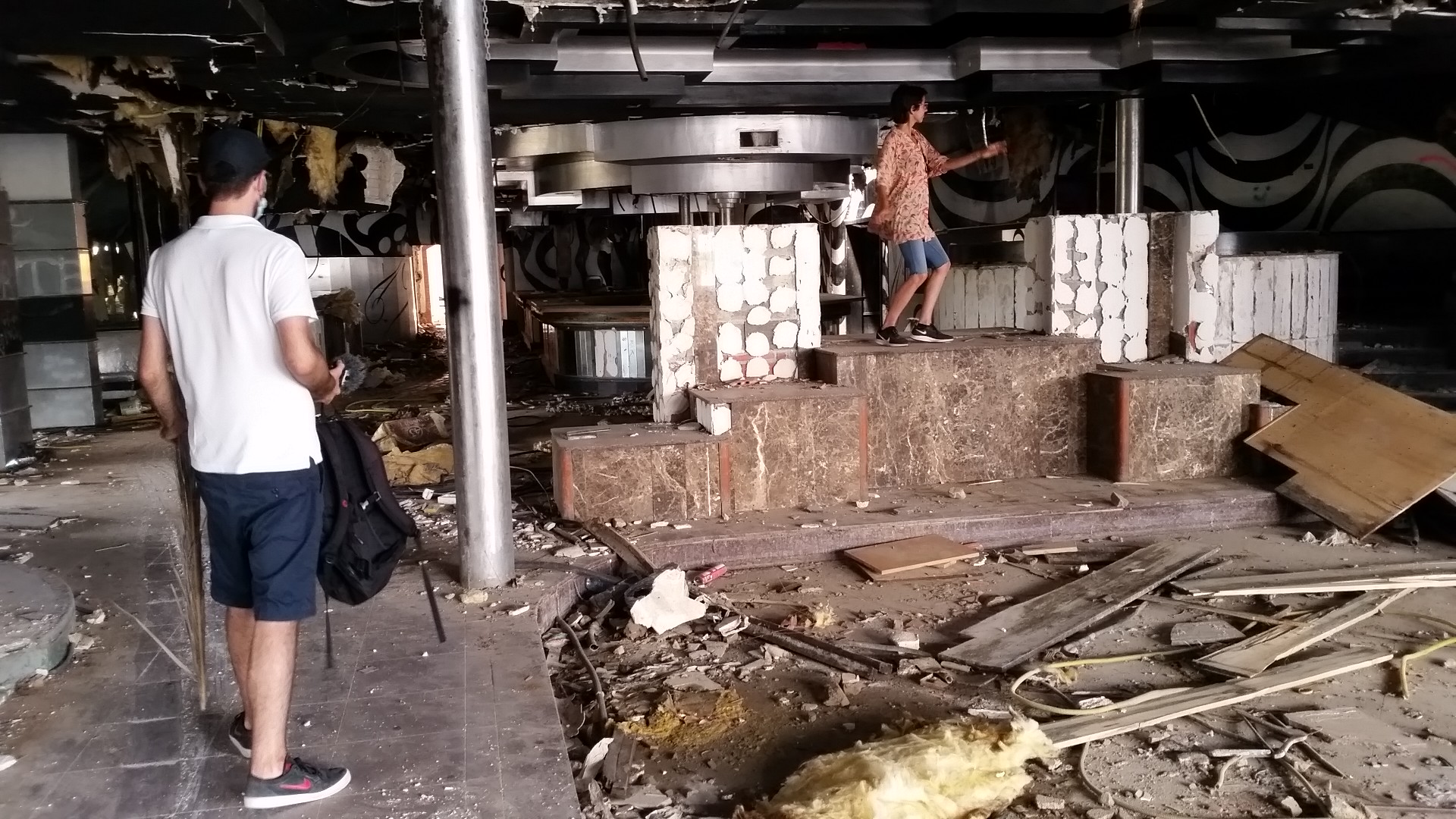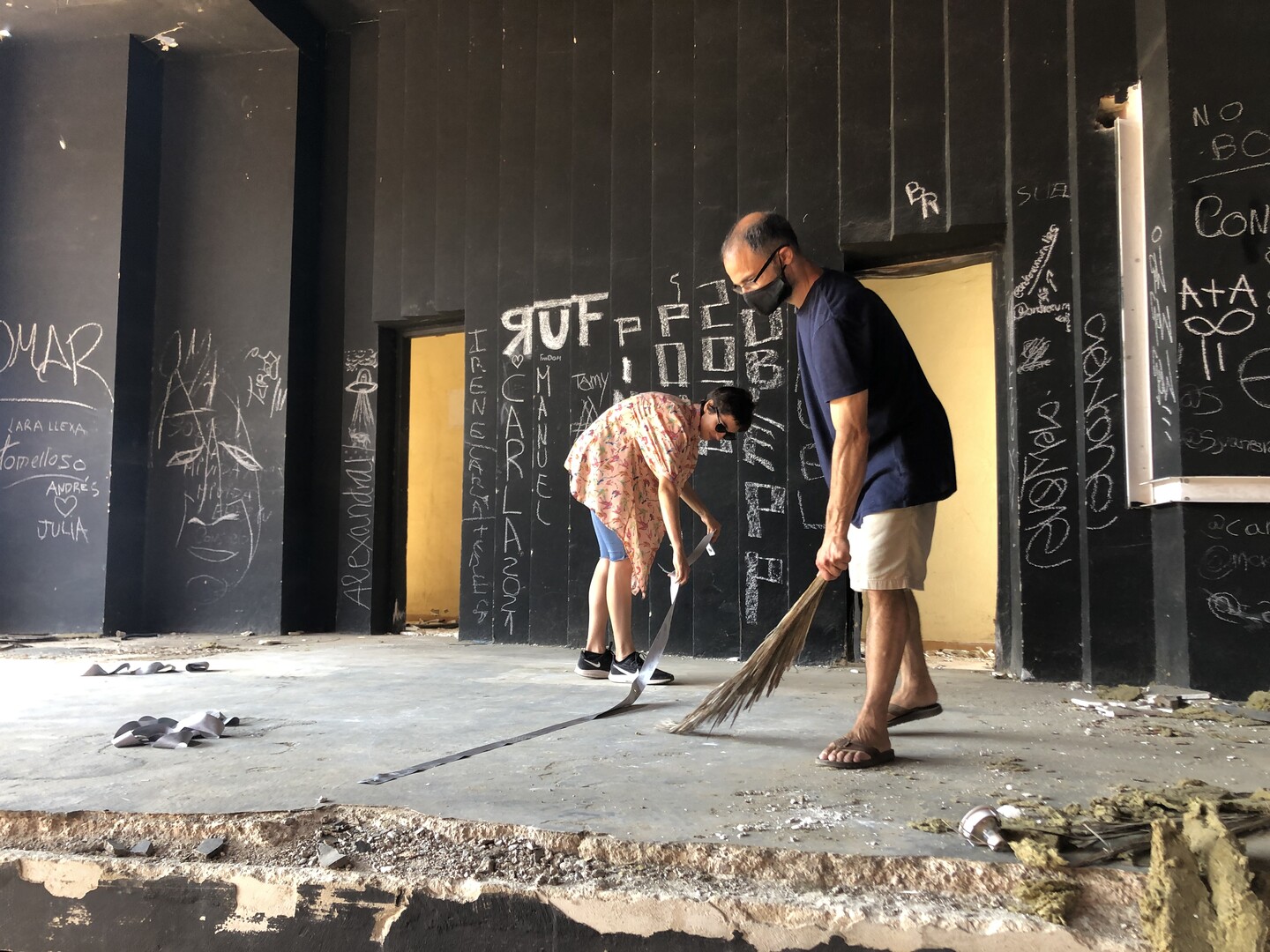 This place was so full of potential that we actually performed two pieces: one with Madonna's Hung Up on the stage, and one with Billy Idol's Neuromancer in a makeshift square made out of wooden boards that we had used to wipe off the debris off the smaller dance floor.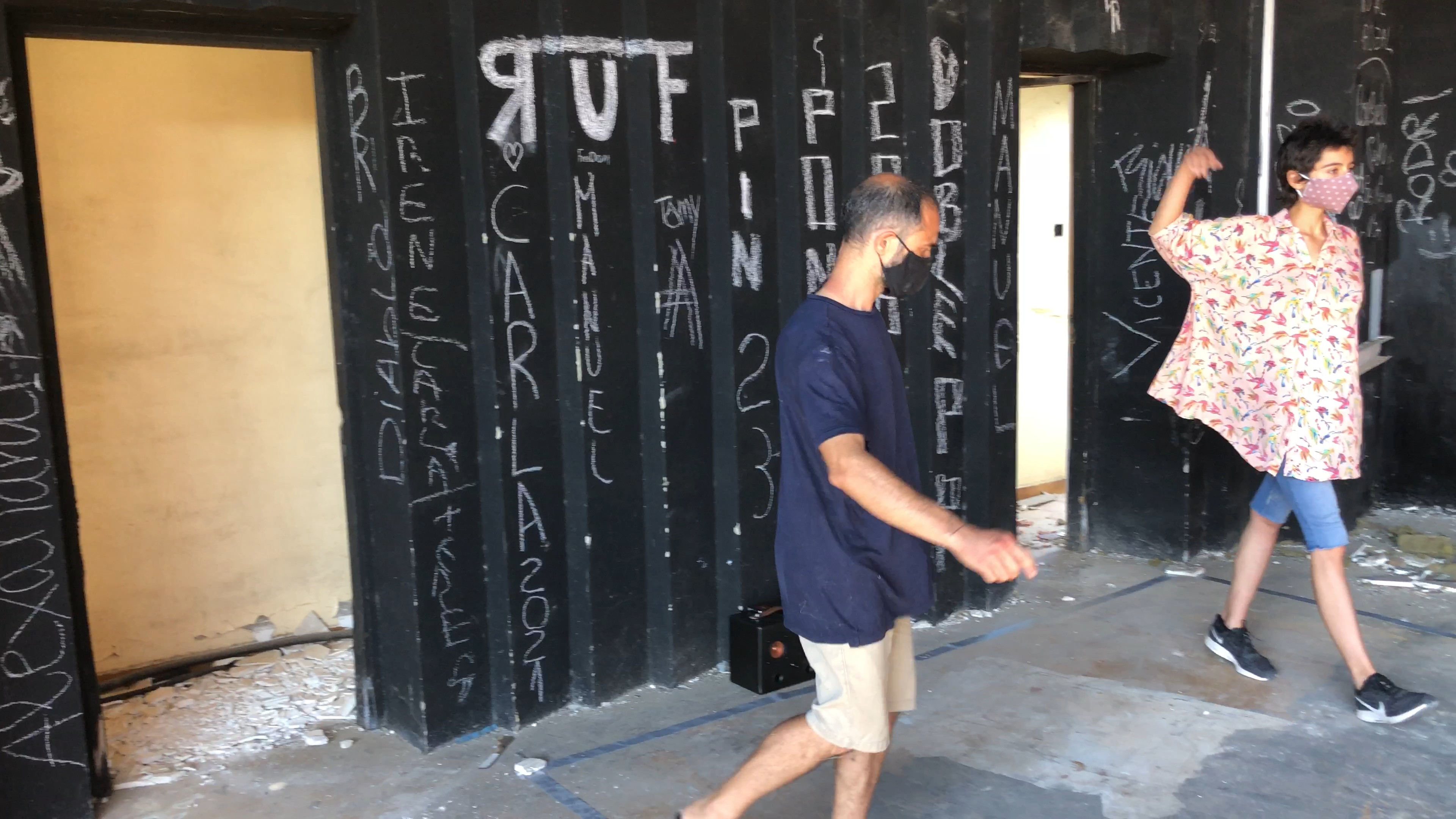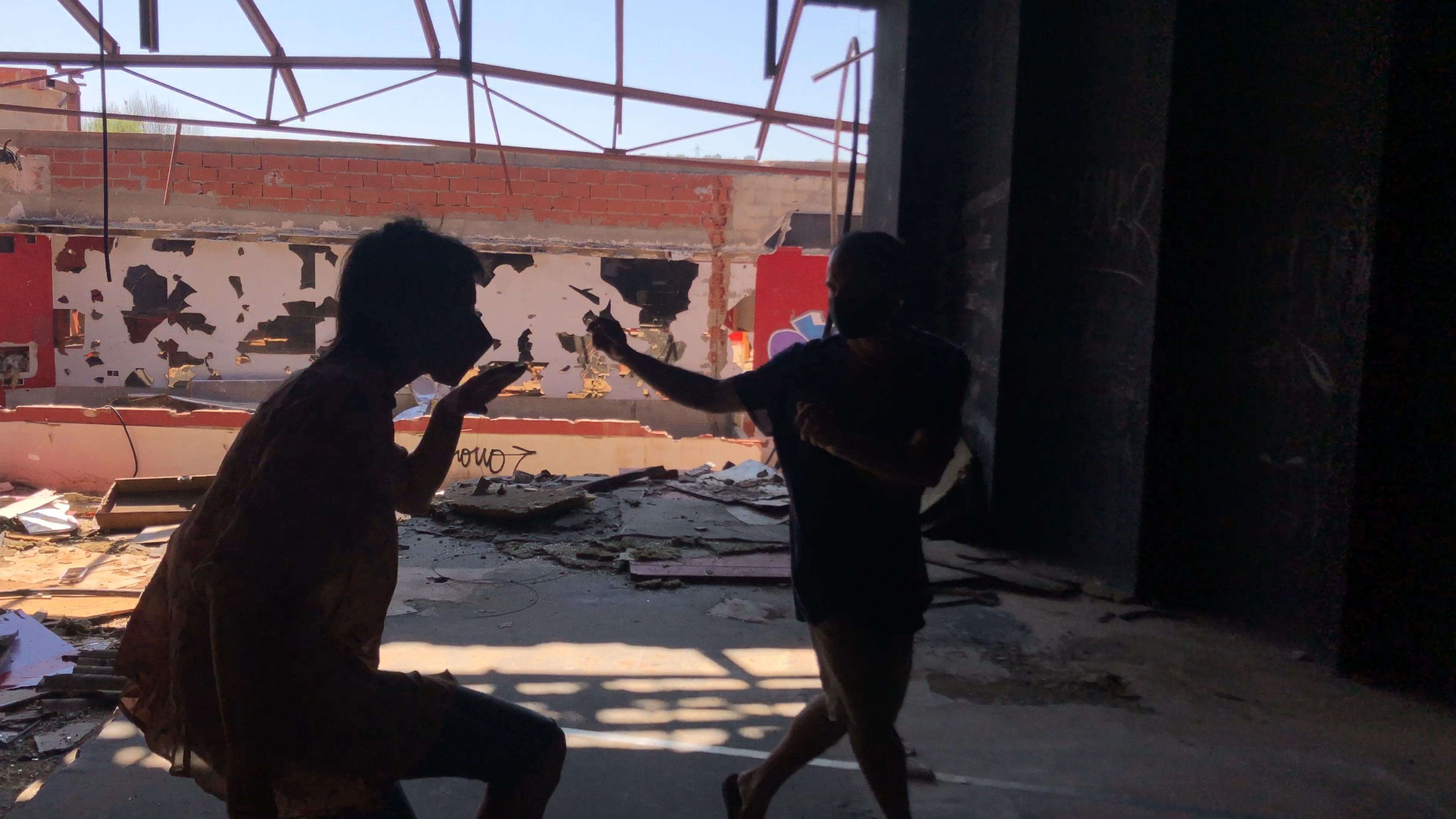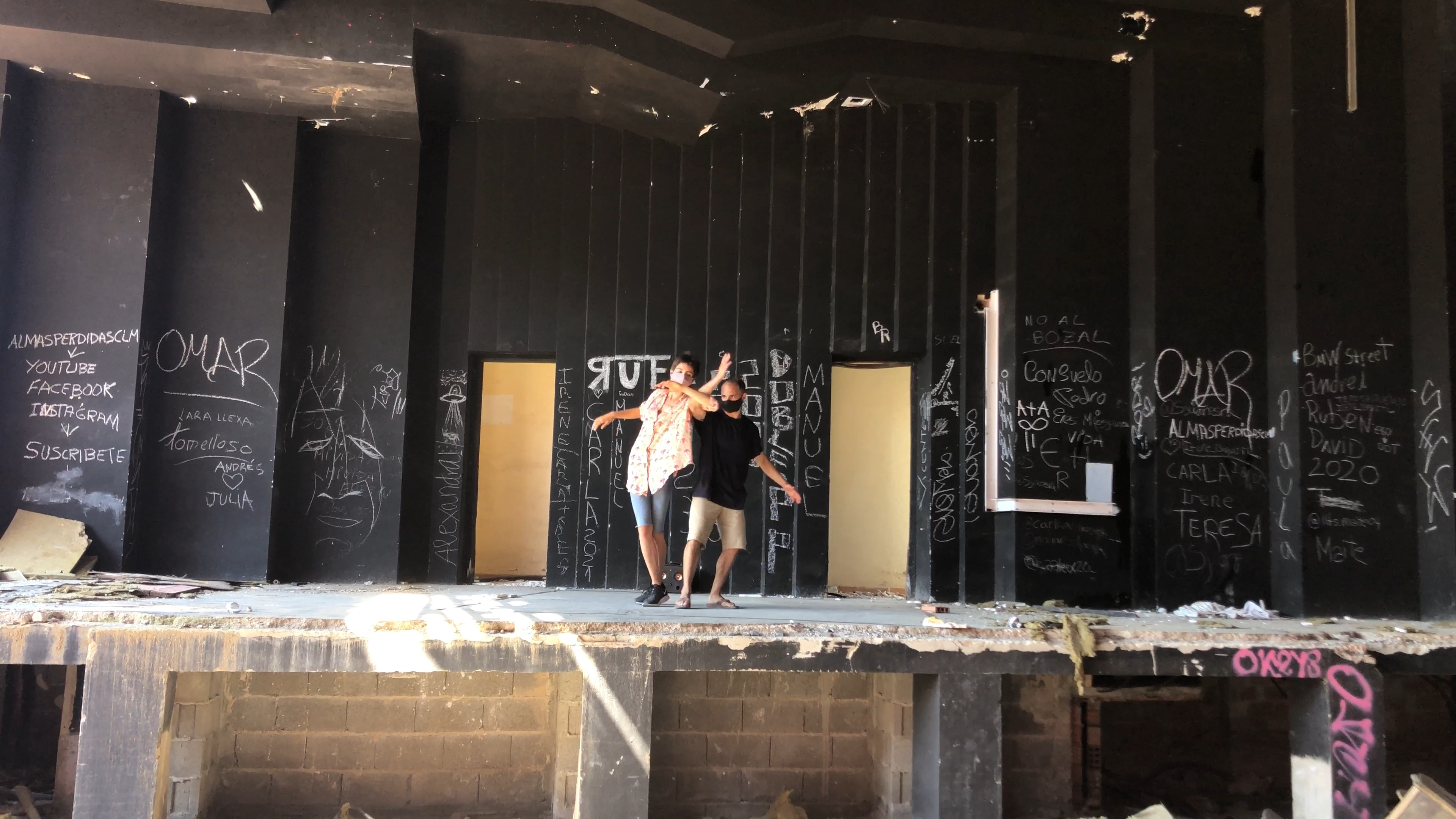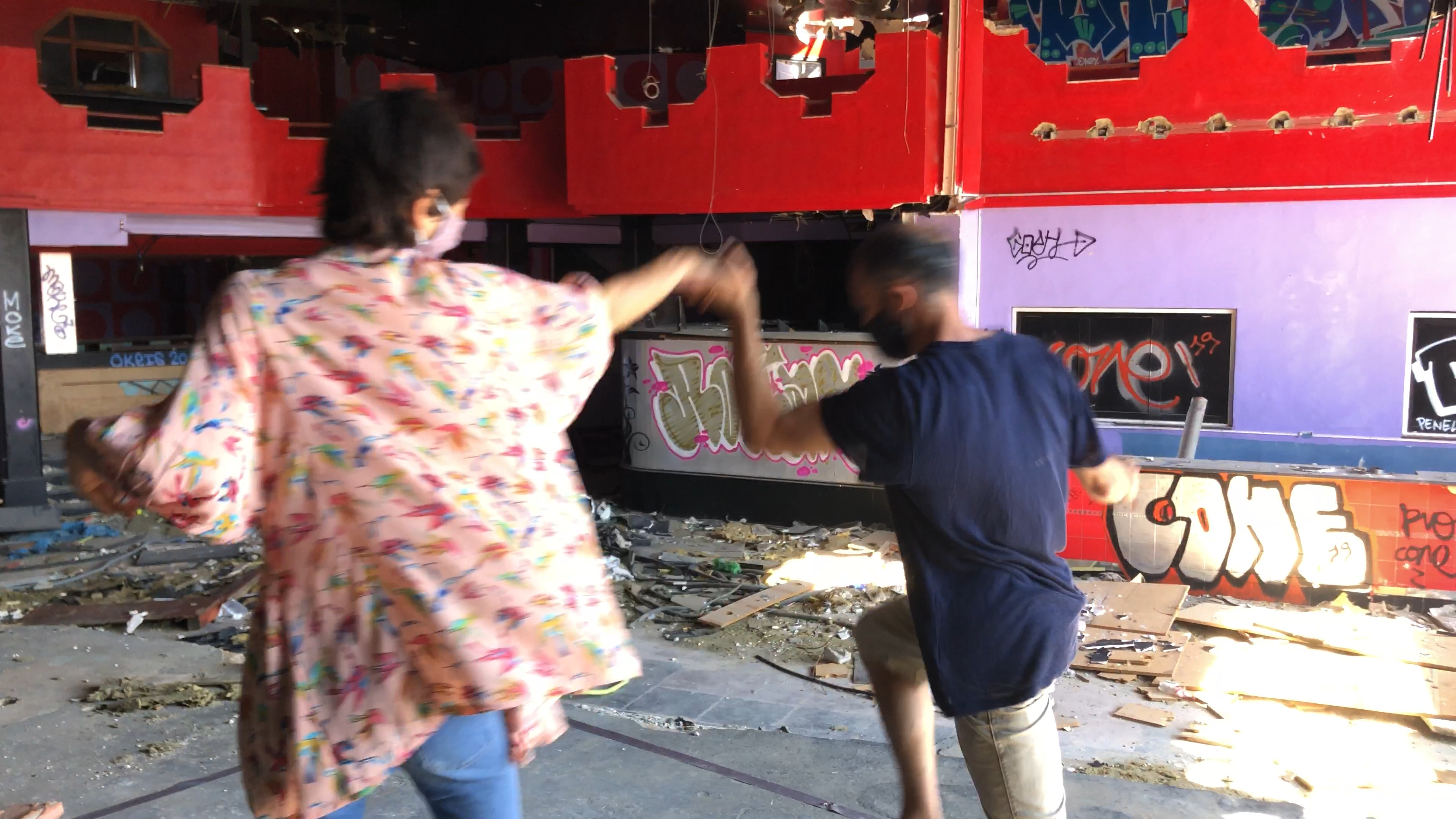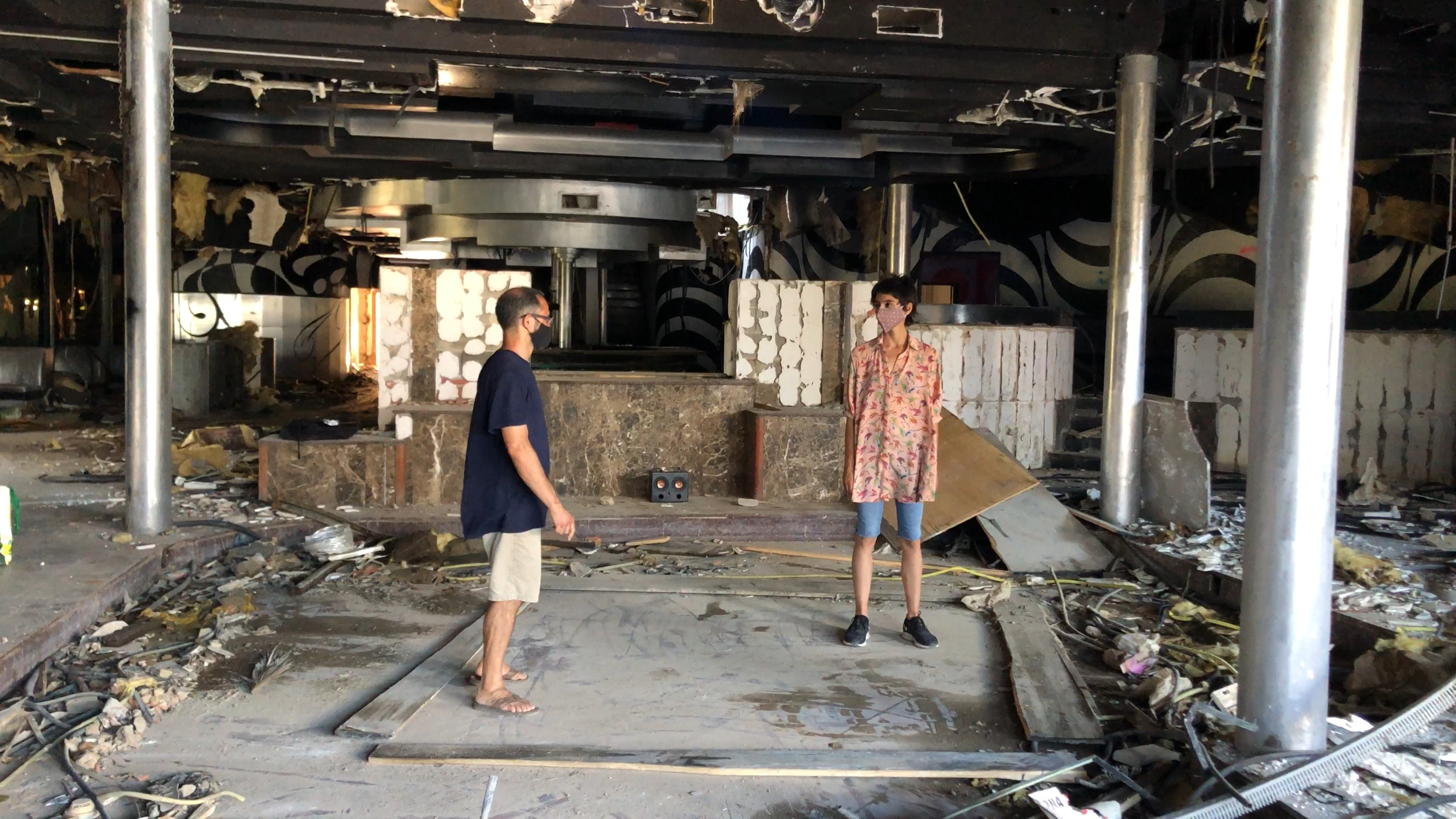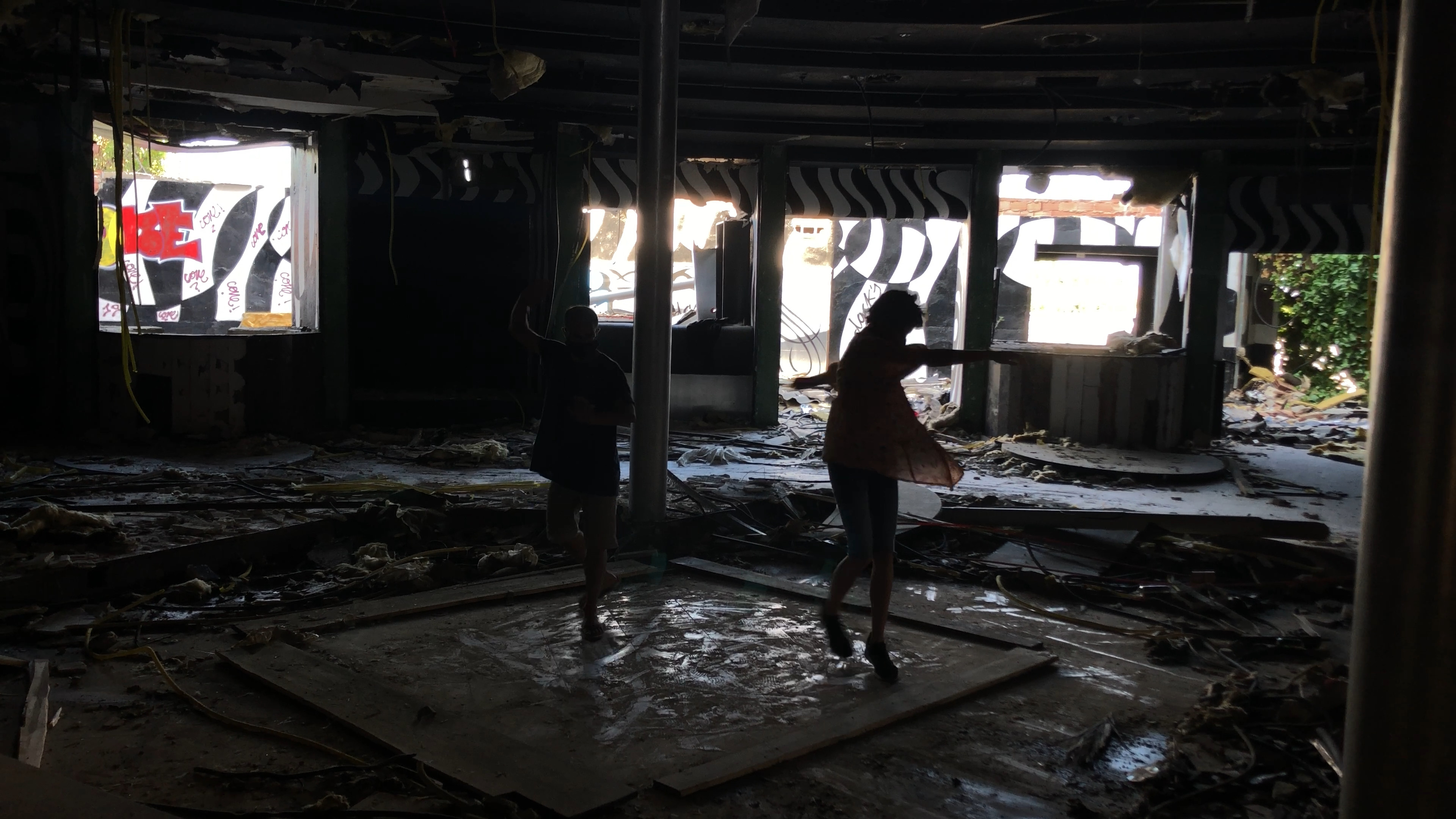 Chocolate
Chocolate was perhaps the most avant-garde club of La Ruta. In contrast to other major clubs nearby, such as Barraca which played relatively upbeat and mainstream dance music, Chocolate had a distinctively darker tone and leaned more toward hard techno (and hard drugs). Today it looks like a chocolate-brown monolith on the side of a two-lane highway, entombed and impenetrable, with some walls shaped in a waving pattern.
As a homage to this place of experiment and excess, we performed the wildest of our sessions so far: in total darkness, we pointed Arron's car headlights toward the club walls; set our silver square in front of it; placed Grater Good Light in the middle of the square and the backup disco ball projecting onto the building. We played LCD Soundsystem's Yeah, a monumental, 9-minute Disco-Punk piece that starts deadpan and monotonic, and gradually turns into a delirious chaos of electronic noise. This was the only session for which we had a defined choreography, which was: dance like drunk frat brothers.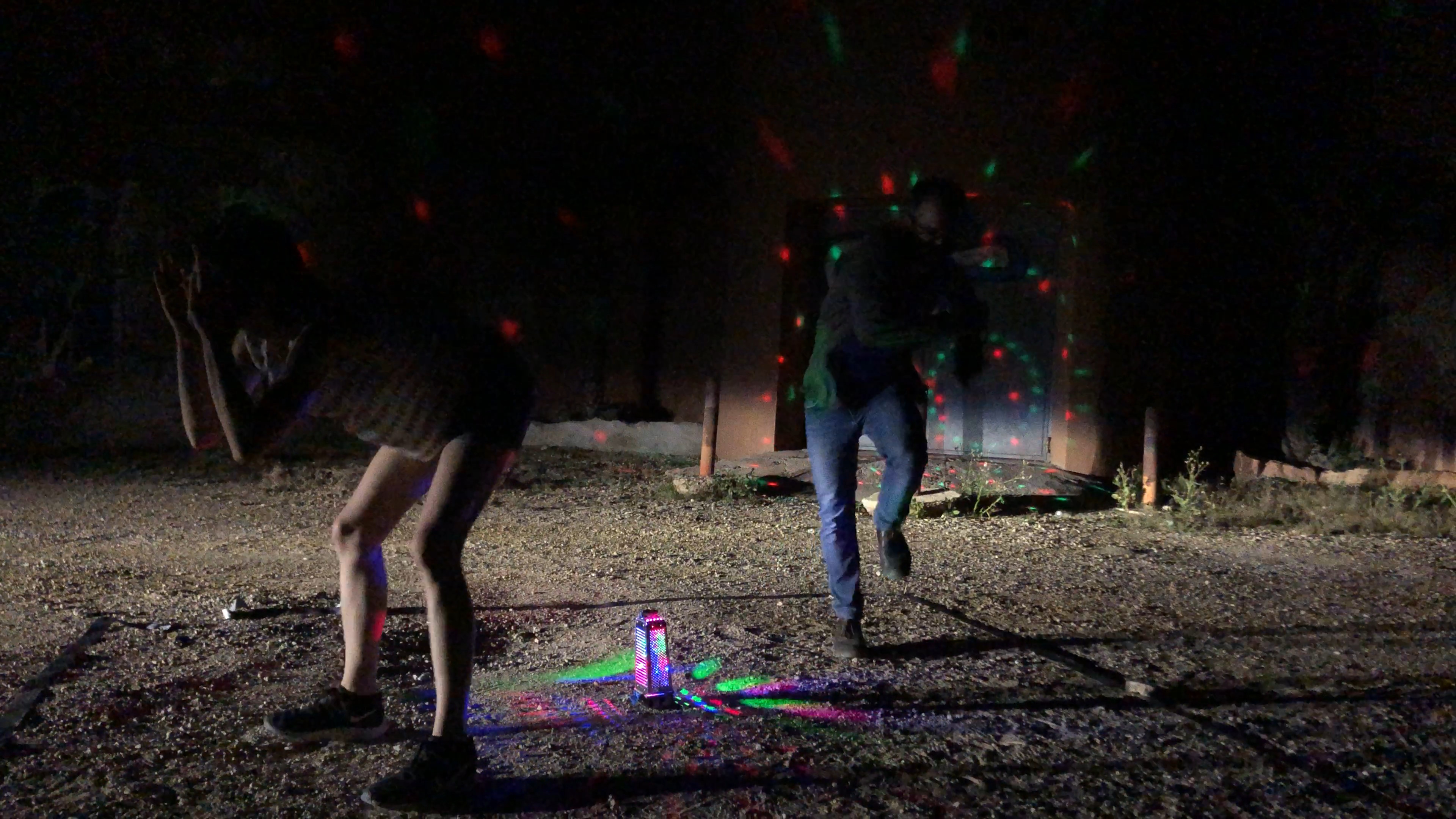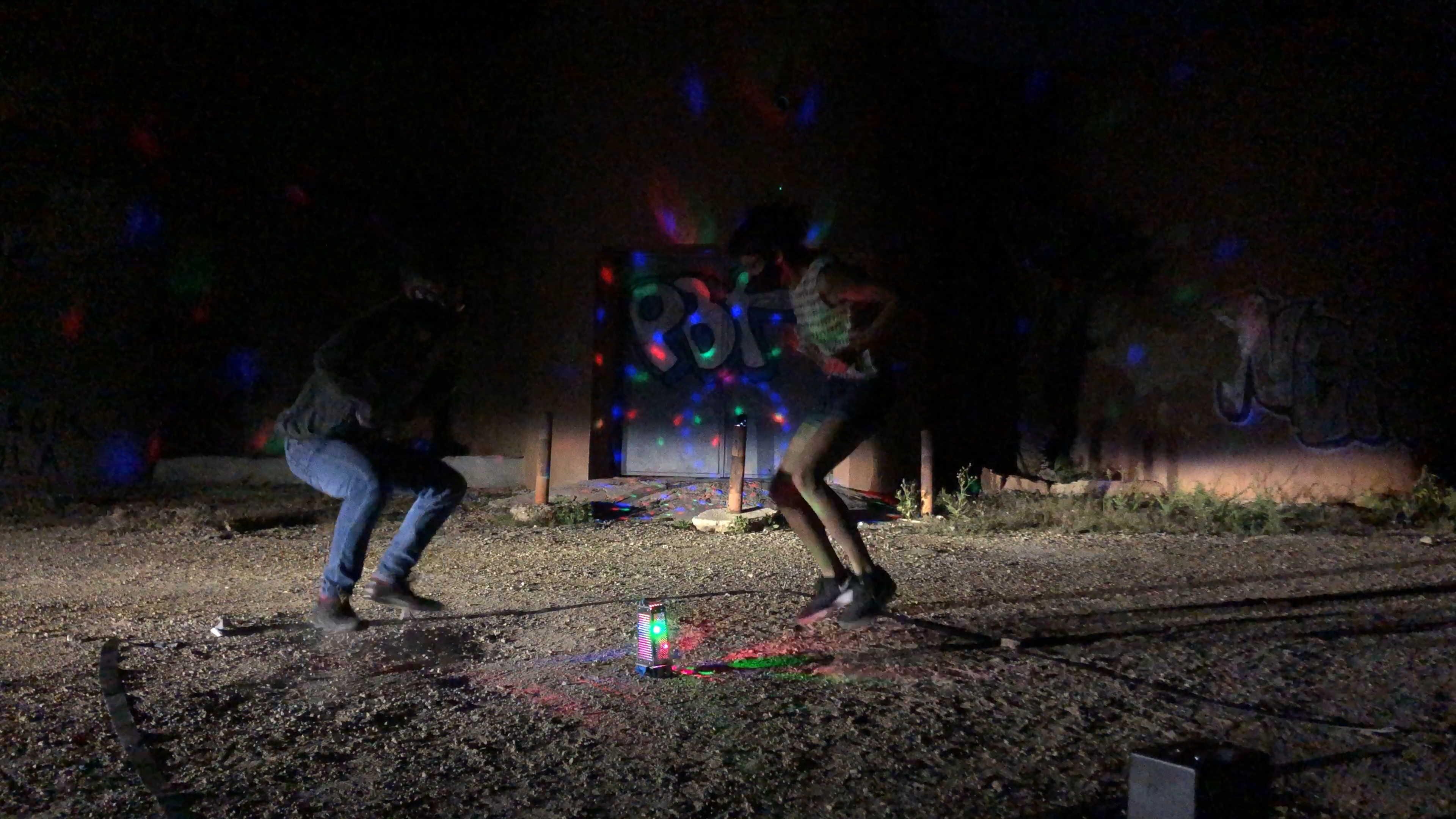 And so we stomped and danced as bad as we could, kicking up as much dust as possible, until the headlights went out and we kept dancing to the disco lights and headlights of cars passing by on the highway, which slowed down to figure out what the hell was going on; some 40- or 50-year old might have thought that ghosts had been awakened.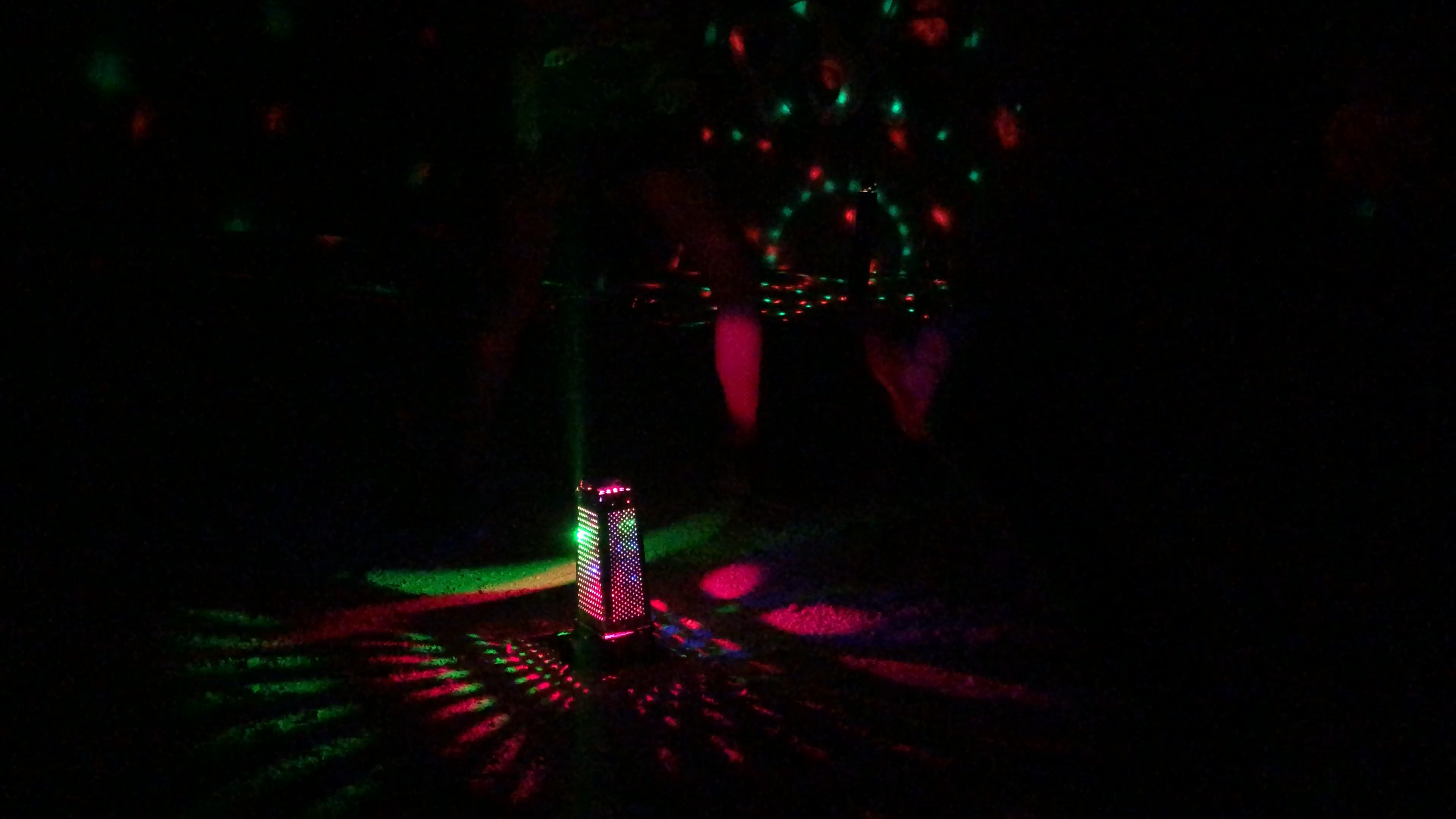 Puzzle
Puzzle was probably even larger than Penelope, or so it seemed from the outside look and from the name; it was the first of the so-called "super clubs" in the area, which offered Texas-sized entertainment for thousands. It was not possible to get inside the abandoned building, at least not without a crowbar or grappling hooks, so we went for a "scenic shot" at sunset between the huge sign and the surrounding rice fields.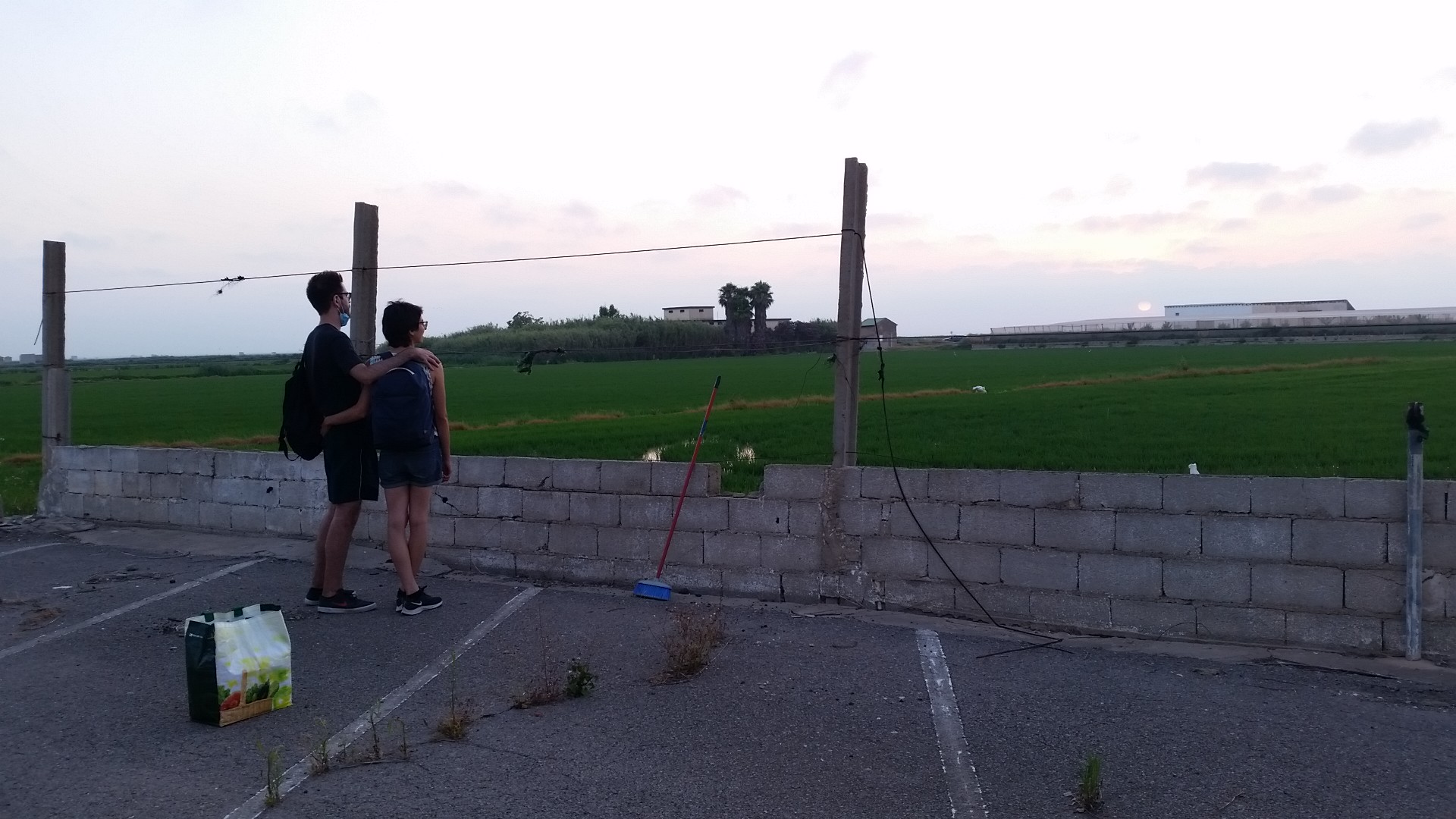 We played a classic piece that DJ Simó, resident DJ and later the owner of Puzzle, used to play at the closing of every night: Nina Simone's My Way. It was a slow and gentle movement (but lively enough to keep the mosquitoes away) and, so it felt, the most appropriate way to celebrate the end of a 20-year long night.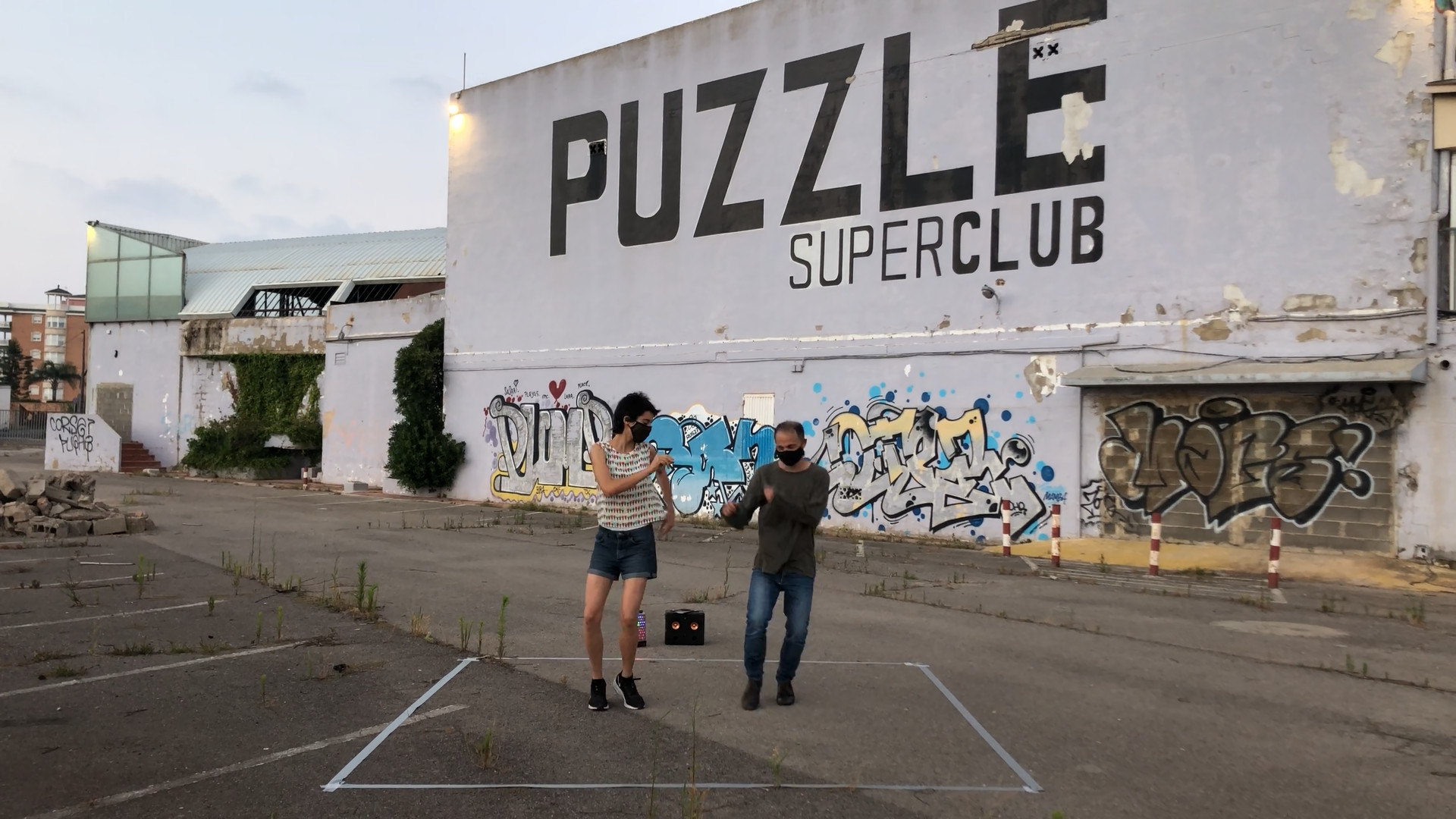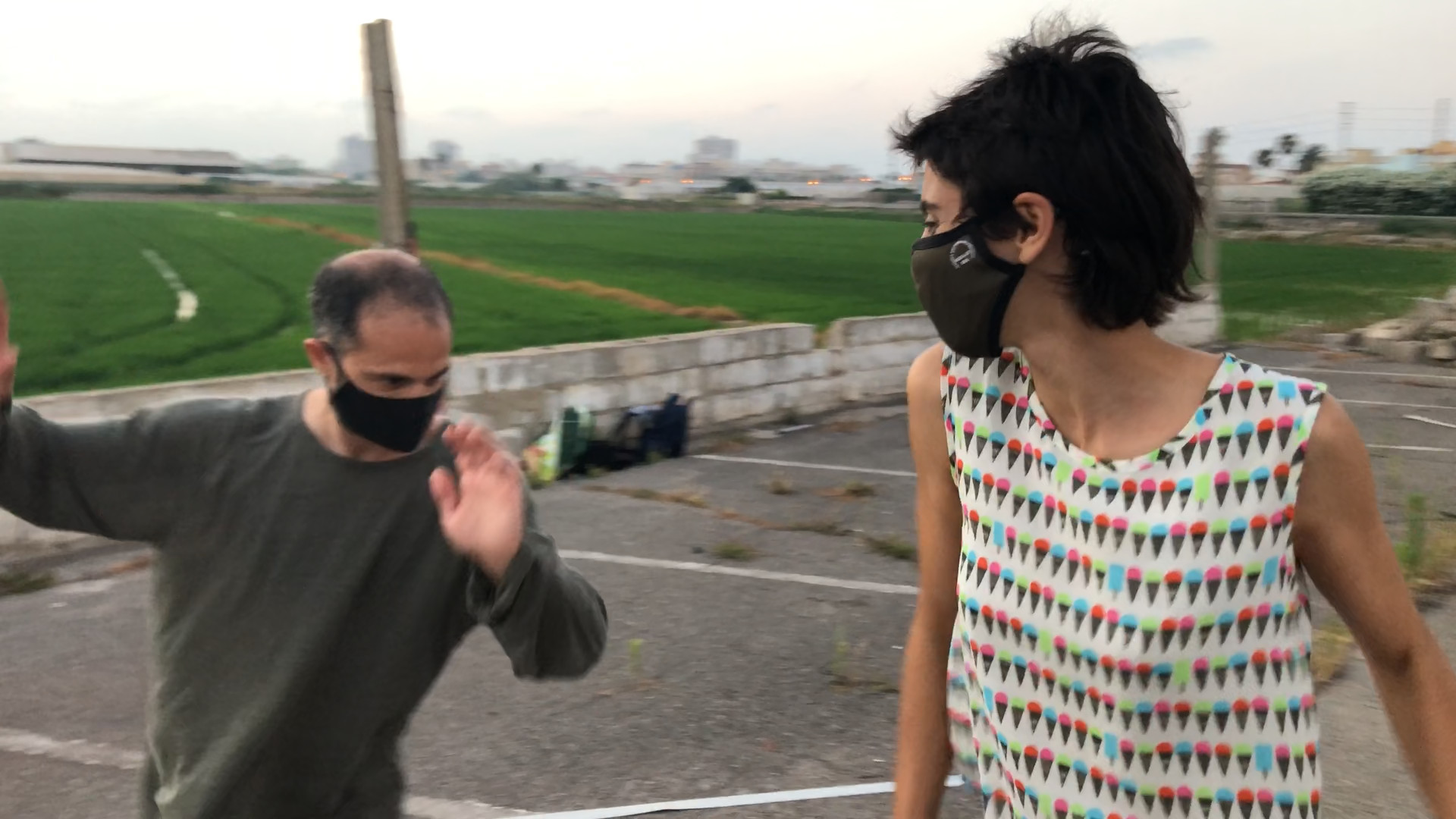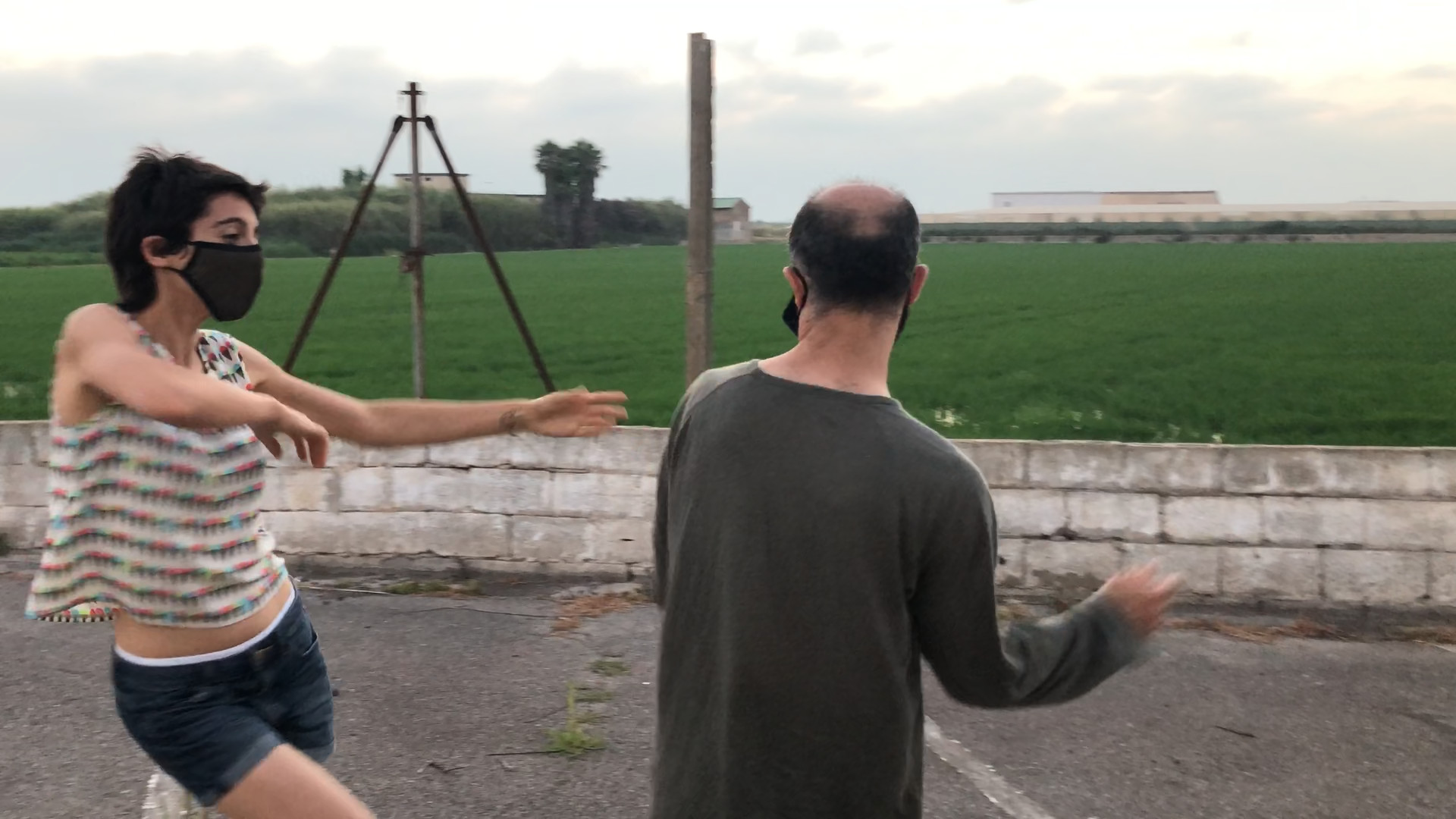 Many thanks to Arron for the audiovisual documentation.